Fast Five was a recently-released action flick starring Vin Diesel, the lead actor in the franchise. As the fifth instalment in the series, Fast Five is considered to be the best (so far) among the others as it contained more car chases, action and a hefty amount of characters that have reprised their roles. Now you can enjoy the game on your iOS as the Fast Five game has been released for the device. Tons of cars, action and car chases make this game a very important title to have especially if you love playing this type of game. Here are some of the reasons why the game is so awesome.
10. Cars, Cars and More Cars
What would a Fast and the Furious game franchise be if it did not contain boat loads of cars that you can choose from, right? The Fast Five game is no different in the sense that you will be able to use a lot of cars that range from a Hummer, a 70s Dodge Charger, a cop car and many more! Each vehicle has its own features, from the maximum speed to the difficulty in using it.
9. Replay Value
The great thing about this game is that once you are done with the story line, you can play it over and over again because of the other modes of gaming. You can drag race, do time trials and a bunch of other arcade racing tracks that you can race around just for kicks. This is one game you will definitely not get rid of in your device.
8. Multiplayer Mode
A new feature that has been introduced to the game is the online multiplayer mode, in which you will be able to race against other players from all over the world in an attempt to become the best racer in Fast Five. Connect to the Internet and see who is the fastest among all gamers!
7. Awesome Graphics
A cool reason why you need to have this game is due to the awesome visuals that can even be compared to console games. The amount of detail placed in creating the environment as well as the vehicles make this title a total catch to have as a game in your device.
6. Easy Controls


Since you are using your iOS device to play this game, everything is touch screen. This means that if you're already used to playing games in your device, you would have no problem whatsoever in steering the vehicle as well as controlling the speed it moves with. Although it may take getting a little used to at first, you surely won't have any problems once you get the hang of the game.
5. Comparable to Console Racing Games
As far as graphics and game play goes, Fast Five for the iOS can be compared to other popular titles in console games. Some might even say that this version is equal or even better than some of the recent titles that have been released.
4. Cool Environment Features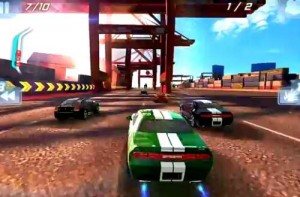 The problem with a lot of racing games is the boring environment that you have to deal with while playing them. With Fast Five, that won't be a problem at all. The buildings explode and the environment is interactive so you can add that to the fun factor of playing the game.
3. Alternate Gaming Modes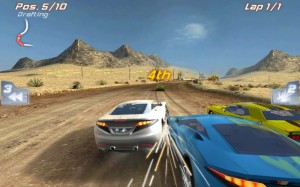 Fast Five doesn't only give you an awesome storyline that keeps you engaged for hours, but it also gives you other alternate gaming modes to play with. You can race in arcade mode or go online for a multiplayer battle or even drag race in the game. This is the beauty of the game – having these two options.
2. Cool Storyline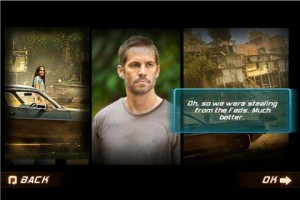 Taken right off the movie, this game deals with the same storyline as what the Fast Five flick has. Your team will have to steal from a drug lord in Rio de Janeiro and that means the entire environment is built around that location.
1. It's from Gameloft!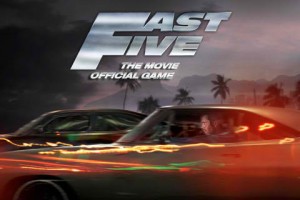 If you're a fan of iOS games, then you might have come across a Gameloft title more than once. Of course, if it's from Gameloft, you are guaranteed to have a game that will surely give you value for your money. Most fan know that almost every game that this company develops is top-notch and worthy to keep!