Electric Box 2 builds on the same recipe that brought its 2009 predecessor so much acclaim and a firm fan base.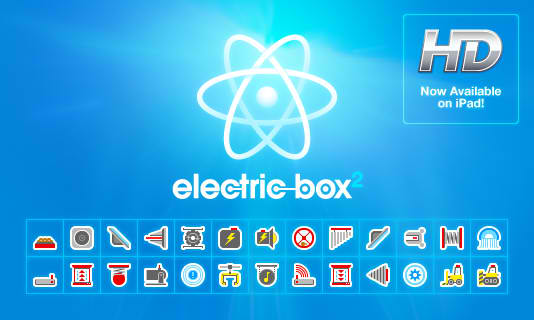 How It Works
Players are essentially tasked with facilitating the flow of electricity from sources to devices using a variety of electronic components and equipment, with new devices and tools being introduced as the levels progress. You are given complete freedom pertaining to the manner in which you grab objects with your mouse and piece them together, but they will only function correctly if they are placed in the correct order / fashion.
When you think you've assembled a working model, you can turn on the juice and observe the electrical current passing through your creation. The game tracks how long you're taking to complete the puzzle, and works out your score from there.
The differences however start with the difficulty level: the first game was remarkably easy and didn't take very long to complete.  Electric Box 2, on the other hand,  forces you to think a lot more about the components you are putting together and is almost three times longer than the original game.
Game Review
Inventory of tools has been greatly expanded, and the graphics have received a significant upgrade as well, making Electric Box 2 more engaging mentally and aesthetically. It's now also much easier to share your scores with your friends via seamless Facebook and Twitter integration, and perhaps befitting of a puzzle game the soundtrack has been overhauled, with the monotone techno track featured in the original game being replaced by three more relaxing tunes.
Electric Box 2 has received good technical support as well, with some levels being modified to negate shortcuts exploited by some players hoping to circumvent the traditional problem solving format. If you get a little stuck, the game offers little hints (1 per level) to get you moving again, as well as helpful explanations of new features or rule changes.
Fans of the level creator will be pleased to know that this feature has been retained, and still allows you to work on your creative projects in instalments, saving them at intervals and returning to them later. What's more this feature has become so popular that there is now an entire community of level creators producing content sure to keep you entertained hours after completing the initial game.
Electric Box 2 Walkthrough
The first two levels are remarkably easy, and it's probably best for you to figure them out for yourself, more for the sake of learning the controls rather than using any real brain power. With the inclusion of in game hints, most of the early levels won't present you with much difficulty either, but if you do get stuck there's a wide variety of walkthroughs / keys out there to help you.
If you prefer simply knowing the coordinates to place objects in, try following the guidelines listed here (you'll have to remove the spoilers). There's also a wide variety of YouTube tutorial videos out there to guide you through the process if you're more of a visual learner, some examples can be found here, here and here.
The Verdict
Overall, Electric Box 2 is a fantastic sequel to the original game, adding a wealth of new features and challenges without compromising the original format. It is more highly polished, better supported and more challenging than its predecessor, which was already a decent game. It's probably one of the geekiest titles out there for Android, and doesn't actually rely on or build any understanding of engineering, however it's easy to see why it's found such popularity in a niche sector of the gaming market. If you like the game as it stands, there's a strong possibility you'll get drawn into the level creation community as well.
Your Turn
Let us know what you thought of the game, or share your experiences of the various walkthroughs below. Maybe you didn't need one, and have actually made your own.