Both the iPod Touch and the iPhone offer a plethora of gaming opportunities, and both of them offer certain advantages over the other to prospective gamers.  This article aims to guide you through their various assets, and help you decide which device to buy.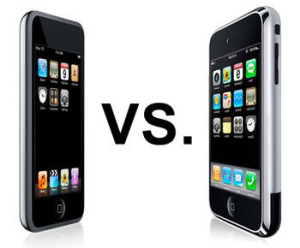 Screen Size / Resolution
The two devices are actually tied on this front (4 inches, 1136 x 640), so whichever you buy you'll be playing your games in more or less the same degree of detail. This puts them both at a disadvantage to their bigger cousin, the iPad.
So if size matters, it might be worth considering a third alternative.
Content Sharing
Want to show off your top scores to your friends? Both devices will enable you to do this, however the iPod Touch requires a Wi-Fi signal, whilst the iPhone will allow you to beat your virtual chest via the 4G network as well.
Battery Life
The latest generation of iPhones match the iPod Touch's audio battery life of 40 hours, and exceed its 8 hour video lifespan by a further 2 hours. If you spend a lot of time gaming, you're probably better off with the iPhone, as you'll spend more time winning and less time charging.
Weight
The iPhone (0.29lbs.) does outweigh the iPod Touch (0.19lbs.), so if you're sensitive about how much weight you're carrying around in your pockets, the latter might be the best gaming device for you. That being said, neither of them is exactly cumbersome.
Price
The iPhone retails at between $99 and $199, whilst the iPod Touch will set you back between $229 and £399. Don't be caught out however by these initial price listings, purchasing the iPod Touch gives you virtually unlimited use for a one-time payment, whilst iPhone users continue to fork out thousands of dollars for two-year contract plans.
Games / Apps
The iPhone and iPod Touch play the same games and apps, so you needn't worry about missing out on the latest trend, whichever product you choose. Both systems also bring you access to the Games Center, a hub for all things gaming and a place to find opponents of equal or better skill to challenge.
Capacity
The higher end iPhones have recently caught up with the iPod Touch in terms of capacity (how many games and apps you have stored on the device). Both devices can now store up to 64 GB of data. That being said, some of the cheaper iPhone models can still only hold up to 16 GB.
Functionality
Now obviously the iPhone comes with a multitude of functions (such as making phone calls) that the iPod Touch does not facilitate – that's what you would spend all that money on a contract for. The innovative iMessage system also allows you to communicate with other devices on the iPhone operating system.
However all is not lost for prospective iPod Touch gamers who find themselves stranded behind enemy lines, as you can install Skype on the device, enabling you to make phone calls via a Wi-Fi signal.
The Verdict
Both products are capable of delivering a good gaming experience (though inferior to the iPad), and at first glance it is difficult to tell the difference between the two in terms of it.
On that basis, choosing between the two is a process of identifying how much you are willing to pay for your gaming device, and whether or not you want your product to serve as a multi-purpose tool.
If money is tight and the thought of paying for a monthly plan is off-putting, the iPod Touch is probably the right device for you. However if you're looking for a gadget to use for gaming on the side which will ultimately serve a greater purpose as a phone and a basis for social interaction, the iPhone is the clear choice.
Your Turn
Anything we've missed? Don't agree? Have your say by leaving a comment below.