Some of the best games for the past couple of years have been awarded to consoles such as the PS3, Xbox 360 and even for the PC. However, not all the best titles are paid-for games. Some are for free and you can play them using your PC anytime you please. While there are literally hundreds upon hundreds of titles, there are a few best free browser games that stand out and that is what this list is about. Here are some of the greatest browser games you can play for free using your computer.
10. Super Mario Brothers Crossover
So if you grew up in the 1980s and you played Nintendo as a kid, then you would most definitely go nuts over this game. Imagine being in the Mario universe and being able to play it using various characters such as Mega Man, Link of The Legend of Zelda fame, Simon from Castlevania, Bill R. from Contra and also play Mario as well. The most awesome factor of the game is that you can use all the special powers that each character possesses in their own game. So imagine being Mega Man and using the arm blaster to wipe out enemies!
9. Hobo Wars
This is a text-based game mostly but fun nonetheless! In Hobo Wars, you get to have a character who is but of course, a hobo. This character of yours can and must be upgraded in order to fight other hobos out there. The point of the game is to acquire money and respect by defeating other residentially-challenged characters. Much like any other RPG title, you can also customize your homeless character into looking like the most fabulous hobo in town.
8. Slender Man
Being one of the newer games, Slenderman is not your typical first-person survival horror title. The objective of the game is to collect all the scrolls in the map but it won't be that easy. At any point in time or turn you make, Slenderman could be there waiting for you! Once he gets near, the game is over. For a free game, this is a particularly scary one so it needs to be part of the list as one of the awesome titles to have come out so far.
7. Quantum Legacy
Ever wonder what it would be like to have a dogfight in space? Well, now is your chance to fight in single player mode or against other players that are also online in Quantum Legacy. A true fun game to experience, this title is absolutely free to play and will provide hours of enjoyment.
6. The Godfather: Five Families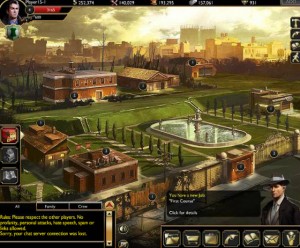 Like any gangster wannabe, it is your dream and goal to become the most powerful mobster in the city. In Godfather: Five Families, you assume the role of a gangster who is part of one of the five mob families and it is your objective to build your own empire. You can train your goons, build structures in the game and of course, fight against other players that are also online. If you succeed, you will be the most powerful godfather ever.
5. Sherwood Dungeon
As far as role-playing games go, this one is quite unique. There is only one dungeon that you have to play in but it is by far the deepest one you will have ever encountered. As you go deeper into it, the monsters you will fight become harder and to this day, no player has ever made it to the furthest point of the dungeon. You can create a character to save your progress but if you do not make an account, you can't save your game.
4. The Lost Titans
With an immense storyline and amazing graphics, The Lost Titans will take you through an adventure that will have you saving the Greek Pantheon and the entire civilization by battling countless enemies. It is also one of the very best MMORPG titles out there today and yes, it is also free to play as well.
3. Paradise Paintball
Have you ever wanted to play in a Counterstrike-type environment without the violence and have something original in the process? Then if that is so, Paradise Paintball is the perfect game for you. This title is a first person shooter that is eerie similar to the popular Counterstrike franchise in terms of game play but it has one key difference: you will be using guns loaded with paint bullets instead!
2. Blood Wars
Instead of worrying about gang members and zombies in what seems like a post-apocalyptic world, Blood Wars makes you assume the role of a vampire who needs to kill other vampires and everything else that moves in order to become, of course, the most powerful blood sucker in town. This title is also an MMORPG, which means that there are also other human players in the game while you are in session.
1. Fortune Online
One of the games that have the most advanced graphics for a free MMORPG hack-and-slash title, Fortune Online is a two-dimensional game that pits you in a world of fantasy with tons of enemies, dungeons and even labyrinths. You can fight solo or choose to team up with other human players to go through numerous dungeons and fight your way through. Upgrading is imminent and you can also create your own armour to become one of the strongest characters in the game.