The inexplicable nature of humor makes it one of the more universal experiences that trancends various barriers that had cropped up after the few hundreds of thousands of years since the first caveman laughed his heart out when a fellow cavemen slipped on a banana peel and did not hurt himself. When something strikes you as funny, it is difficult to explain why. And with this premise, we present ten of thmst most fun games in the world. Please do not expect any explanation whatsover.
10. The World's Hardest Game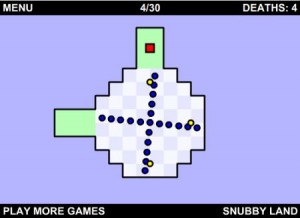 Despite the disheartening title, this is one really fun game. What makes this game hard (and equally fun) is the almost Spartan nature of the game's rules: avoid the blues, collect the yellows, and remember that you are the one and only red dot on the screen. And better read on what the green dots are all about, because if you do not understand their function then the fun could cease altogether. But no matter how hilarious it gets eventually, one of the hardest things to swallow about this game is that the score is nothing but the record of the number of times the gamer had died. The game is available in 3D.
9. Apple Shooter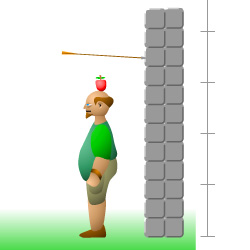 So you get to be an expert archer for once in your life. But for this to be fun and not overly frustrating, what you actually need to do is figure out how to manipulate the mouse so that the arrow goes into the apple and not through any part of the anatomy of your generous and courageous friend on whose head the apple stands.
8. Ass Hunter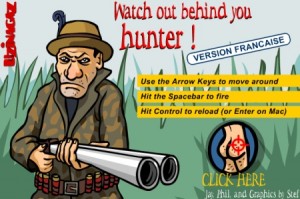 "Watch Out Behind You Hunter," says the warning. Watch out indeed because this bloody naked frenzy could really be offensive to some. So before you spread the word about how much fun you had shooting, try to find out indirectly how people around you feel about butt hunters.
7. Firestarter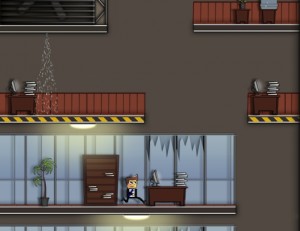 Evidently, there's more than one firestarter because this one is a guy in a corporate suit, not the young Drew Barrymore. When you play this arcade game, you get to be this guy who is not too bright because he almost gets trapped setting fire inside the building while still inside. That's funny when you're not the one trapped. But wait and see if you can or jump high enough to escape.
6. Learn to Fly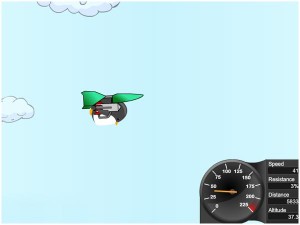 Penguins are flightless birds that live only in Antarctica. That's in real life. This penguin may not be real but that hardly matters. He REALLY wants to fly. Where's the fun in it? You'll find out maybe after skipping lunch and dinner just to get the little fellow sky high.
5. Duck Life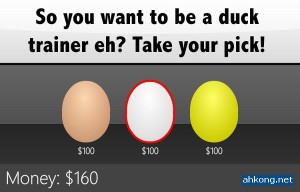 This is still all about poultry raising and management, and the latest in the Duck Life series is giving you the chance to train this plump yellow bird for one purpose: win all the races. And the races are not all just "cute: because is you don't win there's no money for a funny hat, and that is not funny at all.
4. Fancy Pants Adventure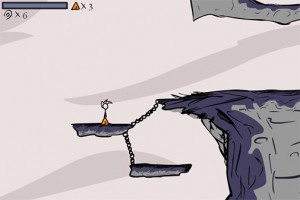 Fancy Pants Man's universe includes spiders and snails and other creatures and things that get in the way of Cutie Pants' rescue from kidnappers. Our hero may look meek, but he can wield weapons, too. If you like this kind of adventure, then you'll have all the fun in the world. If not, don't say we didn't warn you. This very popular browser game is well known particularly for the hand-drawn art and is also know on Xbox and PlayStation.
3. The Red Button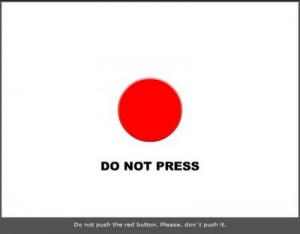 It's free and it's so simple you can't help but press it. If you don't press it like they say, then you are probably too bored to care. But it can be so much fun so make sure you have at least five minutes to spare—five minutes just looking at a red button (hint–or buttons).
2. Fly Zombie Fly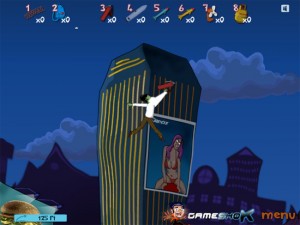 Zombies and the laws of physics could live in harmony as this game proves once and for all. It's quite easy to play. Use the arrow keys to swing the zombie to the left or to the right, and then launch the poor undead fellow with the space bar. The zombie is escaping from only God knows what, but you're supposed to help him just the same. It is fun once you get the hang of the undead, if you get the drift.
1. Mike Shadow I Paid For It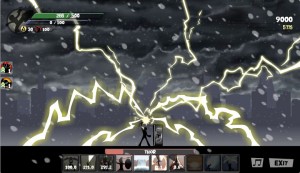 Mike Shadow's wrath cannot be appeased. That vending machine ought to beware because weapons, magic and even natural disasters will be unleashed because of a vendetta. The main objective is to beat the vending machine, but in this time and age, it's best to keep an open mind as to how such a simple task could be done more violently. If you don't find this game funny at all, then it's totally your loss.