Gambling can be addicting. But since this is a game of chance, there's a possibility that you may or may not win. If you are lucky, you may take home loads of cash. If the good vibe is not on your side, you may end up broke. However, if you like playing this type of game but do not want to risk your hard earned money, you can play online for fun. There are several free online risk games that you can find that will make you enjoy playing without putting your money in jeopardy. Some risk games need some skills, though they still rely mostly on luck to win huge.
10. Slot Machine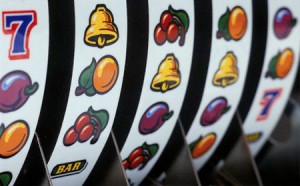 Slot machine is one of the most popular and easy to play risk games in the Casino. Those who are looking for a past time and do not want to spend much money in playing usually play this. But it can be addicting to some because it's not only fun, it also offers huge amount of winnings. If you are interested in playing the game without using real money, you may play a slot machine game online. You will have the option to increase and decrease you bet. Pull the lever and cross your fingers that you win. Some slots have a spin button that you need to push instead of a lever to pull. But they all have the same game play.
9. Wheel of Fortune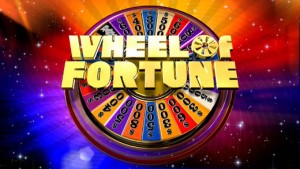 This online game is based on the popular game show of the same name. It also has the same game play. So if you are familiar with the said game show, you will not have a problem playing Wheel of Fortune on the web. The amount that you will win (if any) will depend on the outcome of your spin. Spin the wheel and see how much each letter that you will get correctly would earn you. Choose a letter on each turn to solve the puzzle with its given category. Be careful as every wrong pick will deduct you of the amount that you got from the spin. Another thing you need to avoid is the word bankrupt on the wheel. This will take away all the money you earned on the game. If you like puzzle and risk games, this one is for you.
8. Roulette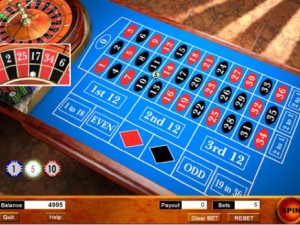 This is another popular game of chance. You can experience the same excitement of playing the game in a real casino without using real money by playing it online for free. Play how it is exactly played on a casino. You will be given $5000 to start with. But of course, the money is not real so you will not be taking home any cash even if you win. This one is just for fun. Click on the number or option on the board and determine how much you wish to wager. Click clear bet if you want to remove your bets and choose other picks. Once ready, click the spin button and the roulette with a ball will spin. See where the ball stops on the roulette. If it matches your choice, you win.
7. Coin Pusher Mania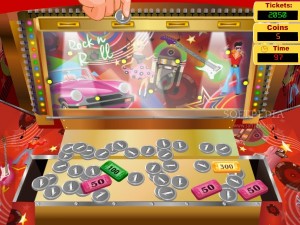 This is one of the games that you will see if you go on a game arcade. Insert coins to make the tickets and other coins drops. You will be given a limited number of coins to start with. Each coin you drop will add to the number of coins. The value of the tickets successfully dropped will be added to total ticket points. There is a time limit to play the game. The game will end once you reach the time limit or when you run out of coins. The good thing about Coin Pusher Mania is that it gives you the same experience that you will have if you go in a real arcade. There is a store in which you can claim prizes using the tickets you won. The value of the prizes varies. If you do not have enough points to get the prize you want, you may play the game and the ticket points will add up.
6. Casino Royale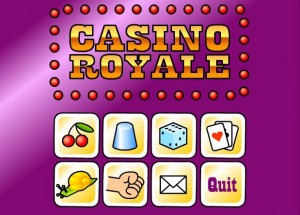 Casino Royale is great to play if you want to have various game options. Click which of the game on the main menu you would like to try. Some of them are slots, snail race, card match and dice roll. Wager the amount that you want and see if you will win or lose. But don't worry even if you lose, you know that you will not risk your real money.
5. Scissors, Paper, Stone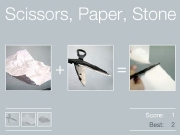 Everyone must be familiar with this game. This is the same game that you played as a child. Instead of playing with another person, you will be competing with a machine. On the lower left corner of the game window are your choices. Select if you want to use scissors, paper or stone. The computer will also generate a choice. If you win one point will be added to your score.
4. Deal or No Deal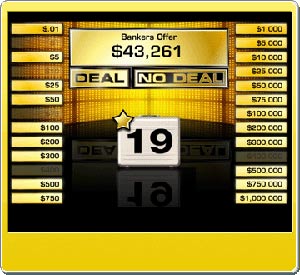 Deal or No Deal is also based on a real game show. Instead of placing bets, pushing a button or spinning the wheel, you will choose a briefcase that contains a specific amount. This will only be opened at the end of the game. Choose the briefcase that you want to open first. These briefcases also contain specific amount. The value will be removed from the board once the briefcase has been opened. The banker will then make a deal depending on the amounts that were already removed. If you think that the offer is good, you may take the money offered instead of the value of the briefcase, which can be higher or lower than what the banker gave. If you want to continue opening the remaining briefcase, you may do so by selecting No Deal.
3. Horse Racing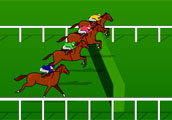 Betting on a horse race is also a risk game since you do not know which of the horses will win. Play horse racing game online and select the horse that you think will win on the race. The first, second and third placers will win some amount. However, the first placer will get 21 times the money betted.
2. Hi-Lo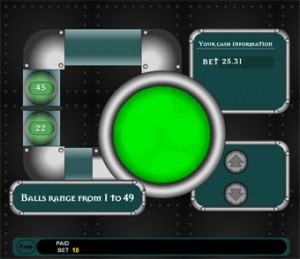 Hi-Lo is an easy to play game of chance that will keep you occupied for hours. If you don't have anything to do, play this game and determine if the next number will be higher or lower than the first number given. Click the up arrow if you think it will be higher or the down button if you think it will be lower. The game will end if you had the wrong choice. However, you can replay for unlimited times.
1. Press Your Luck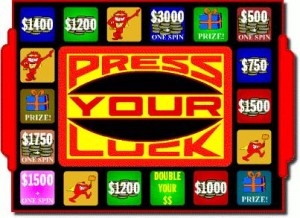 Press Your Luck is a game of chance that will also test your general knowledge. At the start of the game, you will be given various questions with three choices. Every correct answer will earn you 3 spins. If your answer is wrong, you will still get 1 spin. After the question and answer round, it's time to use the number of spins you gained to determine your total price. Press the spacebar to stop the spin and check the amount that you win. Press C to continue with the spin then spacebar again when you want to stop. Do these steps until you use all your spins or when you decide to quit the game. Getting a whammy will take all your money so be careful in making your decision. If you want to leave with your cash without using all spins, press on the S key.